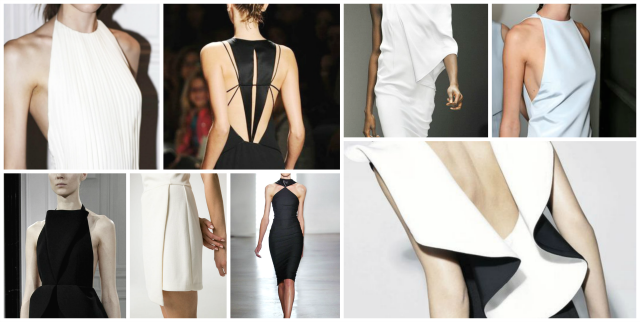 I have two occasions coming up this Summer that require me to go dress shopping (I know, boohoo, how awful ;-) -- the annual Deighton Cup at the end of July and my grandmother's 90th birthday one month later. I have had no trouble getting inspired, but actually finding a dress -within my budget- has proven to be a lot more difficult. Even though I can still swoon over an ultra-feminine blush coloured lace-y dress, I want to really stick to my more monochrome aesthetic and find something minimal but interesting. Think: folds, big ruffles or cut-outs; a bit artsy but understated. Hard to explain, but see my inspiration above.

So I am calling all you ladies (and gents?) for your help. If you know of any brands, online stores or local shops: please help a girl out!
On a different, but related, note: I have found myself finding inspiration mostly from textures and objects lately. It's interesting how architecture or some pretty blooms can influence your wardrobe!
// Minimal dress inspiration