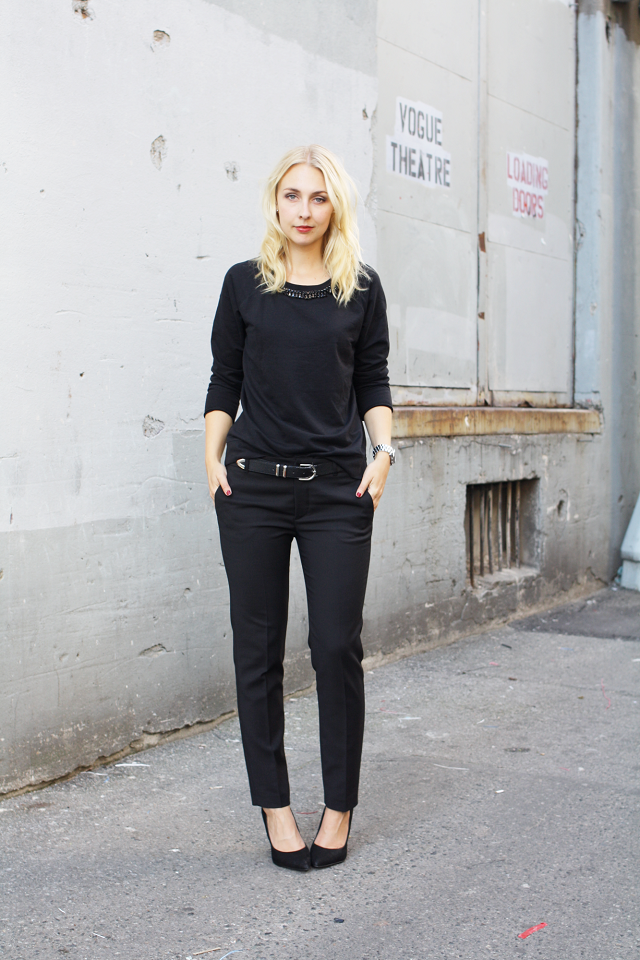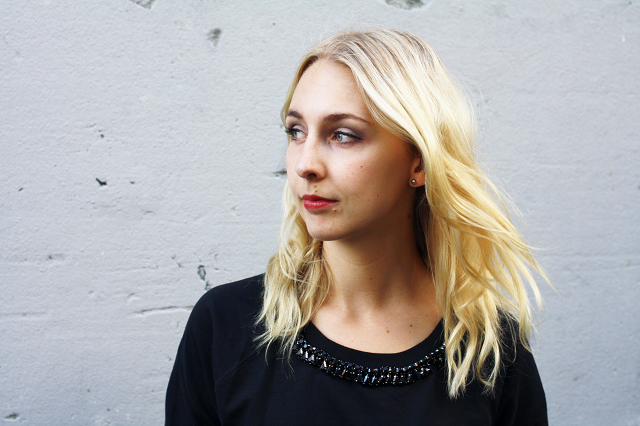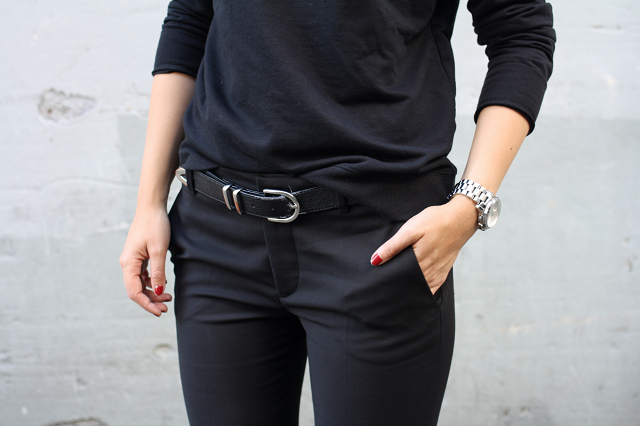 Until about one year ago, I never considered myself a very casual dresser. I loved everything girly, and often preferred skirts and dresses over jeans. I always felt so underdressed in plain denim and a simple top – I just wasn't too sure how to give it a classic and feminine twist. But as my life changed a fair bit, so did my style… and thus colours were swapped for lots of black and distressed jeans took over the spot of my pleated skirts. My looks "eased down" and became more relaxed, I felt like I tried less hard and therefore felt more like myself.

And so one year later, I have fully embraced the "effortless chic" look (or so I like to think) and I have downsized my wardrobe a fair bit. Some black pants (mostly denim), soft basic tees, and silk blouses are all I need. Boring? I don't think so. The key is to focus on the details; layer your favorite jewelry or look for items that eliminate the need for a bunch of accessories by letting the material, textures or embellishments stand out. The latter is especially a perfect solution on those days where you can't be bothered rocking that arm party.
When the days are getting colder, I like to take it easy when it comes to accessorizing. I want to be comfortable, but not look boring… and I especially don't want my bejeweled statement necklace to get tied up in my warm scarf…! On those fresh pre-fall days, it's all about finding sweaters with subtle details.

But finding the right item is much easier said than done. I want a comfy sweater that looks like a million bucks (ok ok, $50+ then), but I don't actually want to pay that price. Truth be told, I am not much of a sweater wearer, mostly because they're either too thick, too sporty ("do you have matching sweatpants with that?"), or… too boring. So spending a lot of money on a comfort item is not something I want to do! Long story short, after a thorough search I finally found the perfect bedazzled pre-fall sweater I was looking for. The material is soft (part sweater, part sweatshirt), the "colour" is black, and it has this pretty detail along the neckline. Oh, and it's
on sale
! Where I hit the fashion jackpot you ask? At
Old Navy
! Yup, sorry good pal Zara, you lost this time.

Alright... too much talk! (sorry ;-) Get it while it's hot: all Old Navy new crew sweaters are
on sale
right now starting from $15! (until September 11, both in stores and
online
).