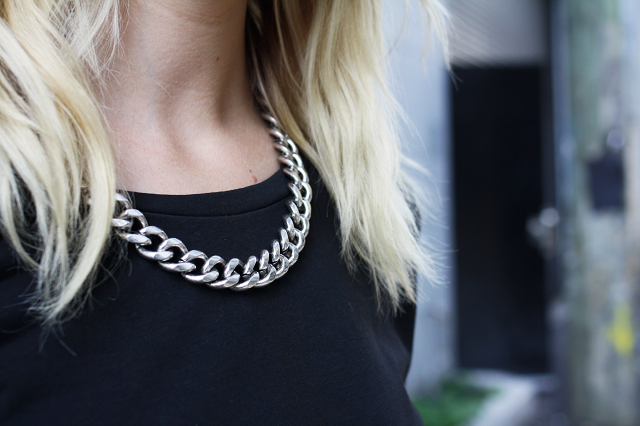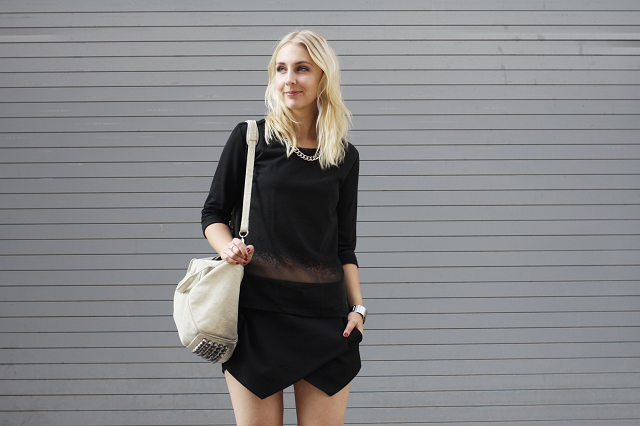 Alexander Wang 'Rocco' bag
One of the struggles I have experienced as a blogger is finding my voice. After reading other blogs for years, I decided to take the plunge and start a blogging adventure myself. I styled outfits, took pictures, and posted them online. Here and there an inspiration post or wishlist, and before I knew it I had a readership. Sounds easy right? Obviously it's not that easy, and what I didn't realize is that having a blog -and being passionate about it!- can be a major struggle at times. You use the blog as a creative outlet, plus communicating with like-minded people all over the world is such a thrill as well. Sooner or later you start thinking more about what your readers like and respond to; engagement becomes a major factor when composing new posts. But while you keep publishing fun content, you feel there is something missing. Your blog has potential to grow, so what prevents you from taking it to the next level?

The 'next level' in this case aren't more followers, increasing traffic or bigger collaborations -that will happen organically- but that satisfied feeling internally that you're on the right path. It is so important, it's where your blog succeeds or fails! I have had my ups & downs with the blog. Mostly because I was missing that feeling of being happy with how things were going. I blamed it on being tired from working my full-time job, the bad weather, or... surprise surprise... nothing decent to wear in my posts. Sure, it is tough to keep up with posts when you already spend all day in front of a screen at the office. Though when you truly enjoy doing something, and feel good about it, you find the time and energy to make it work. Right?

If you've been a reader for a while, you more than likely have noticed at times that I took breaks from posting. This was on purpose because, and I am sure other bloggers can relate to this, nothing is worse than shooting pictures when you're not feeling it. Or posting something for the sake of having a new post up. I have been guilty of this several times, and as a blog reader myself, I have noticed it on other blogs as well. Big and small!

Blogging is such a personal thing: you publish pictures of yourself of all angles for the world to see. Some bloggers additionally write about their personal life, their struggles, their thoughts... The more personal it gets, the more vulnerable you are. I was always hesitant (and still am) to write a lot about my personal life, especially when/because it is not always positive. That's my character, it is also how I am in the offline world. Unless we're close friends, you'll likely not get to know me very well, and there are only very few people who know me through & through.

The thing is though, that I love getting to know other bloggers through their pictures and their writing. And now we're getting to the point I am trying to make here with this novel... it is important to find that comfort and confidence, "recognize" your OWN VOICE and use it*. So while I am naturally more of a private person, I still need to have a voice in order for all of you out there to get to know me better and, hopefully, relate with me in a way. Because that's why we prefer blogs over magazines nowadays, right? We prefer to see and read about "real girls" with a great sense of style, that we connect to in a similar way we connect with our friends.

Obviously this works both ways - and so I would love to get to know YOU better and read your thoughts on all of the above. Please shoot me an email, tweet or Facebook message. Or leave a comment in the section below! I would really appreciate it :-) xo