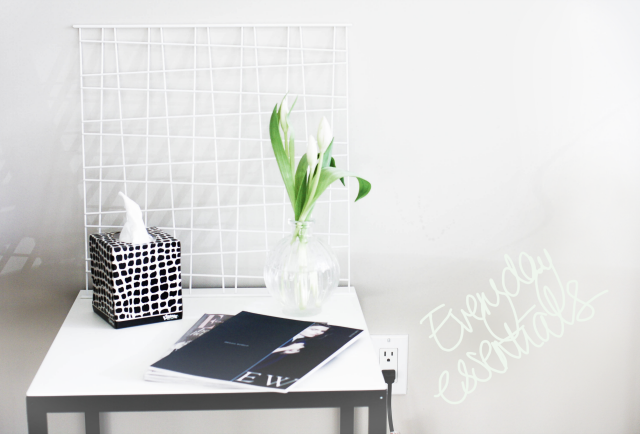 After almost three years I have finally started to create an actual home. As mentioned before, with my Permanent Residency being finalized I really feel the need to focus on the space(s) I live in day in & out. In the last few weeks I have shifted my focus from my wardrobe (no new additions!) to my interior. I have to admit; my daily midnight Pinterest sessions definitely sparked this new passion. My brain is overflowing with inspiration from all the wonderful spaces I have pinned lately and especially my living room is coming together very nicely.

One thing I miss in the hundreds of inspiring images is the incorporation of everyday essentials. Think bigger items like TVs (see for yourself – you barely ever see an "ugly" big black square in those fantastic interiors), but also smaller items like, let's say, tissues. Or tissue boxes, to be more precise. I don't know about you, but I like to keep some handy in every room. Mostly for all those sappy romantic movies I am watching. You know, in case of the sniffles. But now that I have spent so much time on the looks of my home - and you know I currently lean more towards a minimalistic style - it is important to me that all the different pieces work as a whole. So long mismatched interior, hello well thought-out interior bliss!
Though at the same time I like to rotate some items to ensure that my home décor doesn't look "frozen in time" (honestly, I can't deal with real-life model homes). So while a nice marble tissue box could definitely fit into my décor style, I would rather go for some temporary fun. Cue: Kleenex. The infamous brand for paper-based products (tissues!) recently teamed up with an American fashion designer to introduce four unique designs to the Kleenex Expressions line in celebration of the brand's 90th birthday. The stylish cubes are not only extremely convenient and high quality - as if we'd expect anything less from Kleenex - but they actually fit right into my décor. I mean... a monochrome box with a pattern that slightly reminds me of a black & white leopard print? Done! It actually was the inspiration for this little side table styling. Looks pretty effortless, right? Yup, just the way I like it.
The Kleenex brand will celebrate 90 years in 2014 and plans to celebrate in Style with these newly designed Kleenex® Expressions Tissues - All the softness you expect from Kleenex® tissues with unique box designs to help decorate any room. In stores March 17th.
DISCLOSURE: This post was brought to you by Kleenex via Glam Media Canada. The opinions expressed herein are those of the author and are not indicative of the opinions or positions of Kleenex.